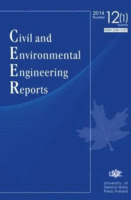 Civil and Environmental Engineering Reports is a scientific journal published by the University of Zielona Góra (First edition 2005). The quarterly presents broad interdisciplinary information on the status of research and practice in civil engineering science, environmental engineering science, systems engineering, and sanitation.
Editor-in-Chief: Tadeusz Kuczyński
The publisher of the electronic version of the CEER has changed in 2023. For electronic editions the current publisher is: Institute of Environmental Engineering and Institute of Civil Engineering, University of Zielona Góra, Poland.